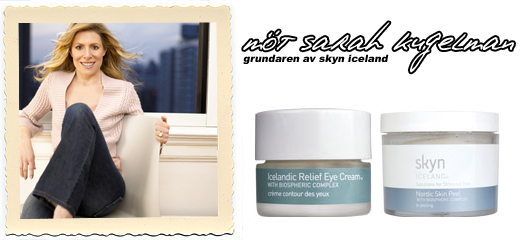 Skyn Iceland har just lanserats i Sverige hos butiken Blush. Jag fick en exklusiv möjlighet att fråga märkets grundare, Sarah Kugelman, om inte bara Skyn Iceland, utan även hennes karriär, hennes beautyfavoriter. Jag passade också på att ta reda på vilken kändis som har finast hud i Hollywood.

Eng: Skyn Iceland has just been launched here in Sweden, and I was given an exclusive opportunity to do an interview with Sarah Kugelman, the founder of Skyn Iceland.
Skyn Iceland has just been released in Sweden, and it seems like a great skincare series. Where did the idea of Skyn Iceland come from?
The long hours, late nights, and constant travel of launching my first company (gloss.com) pushed my body to the limit. I faced a constant stream of ailments, from colds and flus to cystic acne and problem skin. My doctor told me that if I didn't manage my stress, I wouldn't live to be 40. After nearly a year of recovery time, I became obsessed with reducing stress, and began researching the link between stress and skin. I put together a panel of experts to help determine key symptoms of chronic stress, and I started to develop the basis for a skincare line specifically formulated to reduce and relieve the effects of stress on skin. Around the same time, I took a trip to Iceland and I felt so healthy and relaxed there because everything is so beautiful and so pure. I wanted to duplicate that feeling with skyn ICELAND products.
What makes Skyn Iceland stand-out from other skincare brands? What makes it special?
It is the first and only skincare line that addresses and alleviates the effects of stress on the skin. It is also the first skincare line to incorporate potent, natural resources from Iceland and the arctic (including Icelandic glacial waters) into its formulas. From a benefit standpoint, we are the only skincare line which addresses acne, aging and irritation in each and every product.

How can I tell if my skin is stressed, and why does stressed skin need special products?
There are five telltale symptoms of stress on skin: breakouts, redness, dryness, premature aging and difficulty in healing. Stressed skin is damaged skin, and what it needs most is to be soothed, healed and replenished to regain its natural health and radiance.
What are your personal Skyn Iceland-favorites?
I go through different phases (products that I can't live a day without) but I never go a day without using the Glacial Face Wash, the Antidote, the eye cream and the night cream. I'm also totally addicted to the Pure Cloud Cream which is a product I just developed and we're launching in January
Tell us about the name; Skyn Iceland. Why Iceland?
Skyn is actually an Icelandic word, meaning 'senses'.
Our products represent a link between skin and your senses, and each product is designed to calm and soothe, while treating your stressed skin. Iceland represents a place of balance, purity and uncomplicated beauty. Its extreme temperatures and vibrant geothermal activity have created pure glacial waters, and potent plants and botanicals, which provide powerful soothing and healing properties on the skin.
I've read that you asked you perfumer for a fragrance for the core products of Skyn Iceland, that smelled of purity, freshness and water. Are you happy with the result?
Extremely happy. I think that skincare should be experiential. It's not just about function. We are all so busy that the 5 minutes in the morning and the 5 minutes at night we spend taking care of our skin, should be enjoyable and relaxing. I think scent is a huge part of that. When a face lotion smells sublime, you want to take a deep breath and close your eyes. For that moment, you are transported to a wonderful place. I am told all the time by our customers that most competitive products are too "fragranced" and strong. Or, that natural products smell terrible. I wanted our products to smell fresh, clean and relaxing. I think we achieved that and it's one of the aspects of our products our customers love most.
When did Skyn Iceland have its big breakthrough?
There have been 2 defining moments. When CEW awarded us the Indie Brand of the year in May 2007. When Sephora (our #1 retailer in the US) decided to roll us to all doors because our growth rate had blown through the roof!
When did you realize that it had become a success?
As an entrepreneur, I would answer that when we discovered Time Magazine had written a 1 ½ page story in its Fall Fashion and Style supplement, I felt like that really put us on the map in a way we had not been before. Time Magazine doesn't recognize you if you are a blip on the radar screen. As a business person, I would have to say, when we hit profitability!!
How did you get started in the beauty industry?
After I gave up the dream of wanting to become an actress (at 17), it was really the only other thing I ever wanted to do. I loved beauty and fashion and I was determined to break into the industry. I've now been working in the business for 18 years (did I mention I started when I was 5 yrs old!!! Ha ha)
From what I've learned, you were one of the founders of Gloss.com. What was it like starting and working with a site as hugely successful as Gloss?
It was truly a life altering experience. I came up with the idea for gloss before there was even e-commerce and no one knew what I was talking about. I wrote a business plan and then happened to be living in San Francisco when Silicon Valley started booming. It was great timing and it catapulted me into a whole new world. One day I was sitting at my desk as a marketing director for a big company and then next day I was CEO of a 100 person company and sitting in meetings with people like Jennifer Aniston. It just goes to show how a vision and some determination can completely change the course of your life.
How did you take the step from retail to skincare?
Skincare was really where I came from. My background was in marketing and product development for large beauty companies. Retail was always a part of the mix but the technology piece I learned on the job!

Please share three beautyfaves.
I'm a pink lip gloss fanatic, I probably have 300 of them! My favorites are Jemma Kidd, Stila and Chanel. I love bronzers, Nars is the best. And, of course I'm obsessed with my skin and I only use skyn ICELAND products 🙂
Do you read any blogs? And if so, any favourites?
I have to say I'm a little behind the times here. I really don't just because I literally don't have time. Between work, my 7 month old daughter and my husband there just isn't time for much else these days!

Can you name a celeb that in your opinion has really great skin?
Jessica Alba, Her skin is other worldly.
Any quick tips on how to maintain a healthy skin?
Sleep is my #1 tip for healthy skin. You can't skimp on sleep or it shows up immediately on your face. I get 8 hours a night no matter what. Drink 8 glasses of water a day, it detoxifies your body and helps to keep your skin hydrated and glowing.Stay out of the sun!!! I haven't sun bathed in 15 years. 80% of aging is due to sun damage. Wash your face morning and night with an effective yet gentle cleanser (never go to sleep with makeup on!) It's important to maintain good skincare habits. Eat foods that are rich in antioxidants (all types of berries) and essential fatty acids (salmon) they really help protect, replenish and preserve skin. Stay away from "white foods" such as refined sugar and processed wheat….they are toxic to skin!
A huge thank you to Sarah Kugelman for taking the time to answer these questions.
För att spana in Skyn Icelands sortiment, besök Blush.