Jag utlovade ju mer info om denna kollektion så fort jag landat hemma. Nu har jag kommit hem och här kommer informationen. Den är på engelska eftersom jag inte har riktigt tid att sitta och översätta hela pressreleasen, men det har ni väl inga problem med hoppas jag.
Palette Pop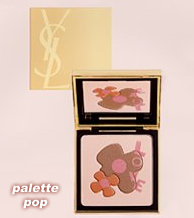 The icon of this collection and the first to interpret the 30th anniversary of YSL Makeup,PALETTE POP was directly inspired by the greeting cards personally drawn by Yves Saint Laurent himself and sent to his closest friends in 1992. This creation celebrates love and flowers with a fresh, joyous spirit. Its assortment of tender, delicate shades superbly sculpt the face. Thanks to an innovative compacting process, the pattern remains intact to the very last. For love at first sight, the heart of the flowers and the word "love" are sprayed with a scintillating pink.
A universal collection to beautifully blend with all skin tones, these three shades – brown, orange and pink-beige – combine to brush on a superb glow of earth and sun tones.
Thanks to the radiance boosting pigments in these airy light, long-lasting powders, the luminous shades are applied in light touches to gently sculpt the features.
Together with its blush brush, PALETTE POP nestles in an elegant black suedine pouch slipped into a box bearing a reproduction of the famous "love" card, sketched in black and white.
Pris: 465 kronor
Bjooti tycker: Inte billigast i stan, men ack så vacker. Denna väcker samma habegär som YSL vinterpalett. Denna står högt på vårens önskelista vill jag lova. Mums!
Pop Stick Blush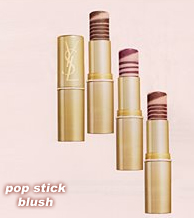 This stick blush has irresistible appeal. Its delicious, melting texture takes you into a whirl of freshness and colour. The exquisitely intermingled shades give the cheeks the kiss of springtime radiance and subtly shape the face. Full of fun and extremely
practical, it can be applied anytime, anywhere!The fresh, melting gel texture sensually glides on the skin, stirring an icy shiver of pleasure and leaving a radiant veil of delicate colour.
A tantalizing menu of shimmering nacres as transparent and luminous as a crystal prism to highlight the face with iridescent reflections. Plus a hydrogel to protect against drying and a poppy extract with softening properties.
Each pairing features two shades entwined in a spiral designed to ensure a completely natural-looking, radiant finish:
N° 1 Vanilla / Chocolate with an amber hue, for a tanned effect as lovely as oneachieved with a gold-tinted gel.
N° 2 Strawberry / Raspberry for a tender, youthful dewy pink touch.
N° 3 Peach / Blackcurrant for a cooling, fruity coral tone to pair with lips in the same
colour range.
Pris: 345 kronor
Bjooti tycker: Även denna lockar fram varma känslor hos mig. Jag älskar rouge, jag älskar söta mönster. Den här måste få flytta hem till mig. Så är det bara!
Eye Colour Touch
A fabulous, Technicolor version of TOUCHE ÉCLAT specially formulated for beautiful eyes.A new express shadow that is fun, practical and super chic. For eyes that reflect your mood, your desires and your wardrobe. They are instantly metamorphosed in a simple click, creating effects that vary from a light touch of colour to a sophisticated halo … cool tempered steel one day, soft honey the next.
The cult brush-pen instantly adorns the eyes with silky fresh, water-resistant, exceptionally smooth creamy shadow.
It produces an intensely radiant finish on the eyelids with a dual smoothing effect: an optical effect with bright pearl complex and a mechanical effect with a bio-polymer composed of sweet almond proteins that are transformed into an imperceptible film.
To last hours and hours and effortlessly stand up to tears and laughter, it contains volatile components that rapidly fix the colour. The net-like structure espouses the skin to perfection, while a polymer retains all the components and holds them within an undetectable film.
To respect the very delicate eyelids, the formula contains polysaccharides – genuine shields against aggressions – and a softening poppy extract.
It has all the appeal of Touche Éclat. From the brush applicator for easy, precise application to its pen-like format enabling it to slip in your pocket or a tiny evening bag. A particularly well-designed detail: the colour inside is what you see outside –
on the cap and a strip on the base.
N° 1 Golden Coral, a natural, glowing skin tone with bronzy mother-of-pearl highlights.
N° 2 Steel Blue, a steel blue grey illuminated with gold and white mother particles, a basic to coordinate with your entire wardrobe.
N° 3 Golden Jade, a pale green shot with gold, sumptuous for women with natural blond hair or light streaks, and light-coloured eyes.
N° 4 Glazed Brown, a perfectly matte taupe to give eyes deep intensity.
Pris: 265 kronor
Bjooti tycker: Jag är ju en av få som inte testat Touche Eclat, men vad jag har förstått är det en riktigt bra produkt. Om ögonskuggorna håller samma mått är de helt klart mycket intressanta.
French Manicure Kit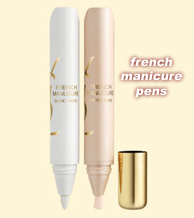 Hands are only eloquent when they're impeccable … Yves Saint Laurent simplifies life for elegant and very busy women with arevolutionary new FRENCH MANUCURE that is applied in just minutes in two easy steps, anytime and anywhere. Thanks to this ingenious duo of easy-to-use pens, the nails are perfectly smooth, immaculate and pristinely beautiful.
With these two elegant accessories, even the most unpractised hands can produce a flawless French manicure in record time.
. The firm-tipped white marker pen releases a pure white ink for tracing a flawless line on the tips of the nails that dries instantly.
. The supremely precise lacquer pen applies a subtle pastel pink shade on the nails with a mirror-like shine.
Behind the simplicity are sophisticated, innovative formulas. They combine an ingenious combination of solvents for ultra-fast drying and a polymer complex for strengthened resistance and staying power. The resin added to the lacquer gives it a sassy shine.
Pris: 435 kronor
Bjooti tycker: Ouch – 435 kronor för nagellack. Men å andra sidan… jag är ju totalt oförmögen att få till en fransk manikyr på egen hand så detta kanske är lösningen. Dessutom är jag oerhört nyfiken på att testa nagellackspennorna från YSL.